A multi-dimensional perspective leads to innovative solutions
Organizations today are looking at more hands-on, interactive and engaged knowledge solutions for their internal and external teams. We work, understand and help incorporating design thinking into your brand through our tailor-made workshops. Design thinking is a methodology that helps deeply understand your customer, and develop a sense of empathy with your customer. This approach helps re-invent the problem and look at it from many different perspectives, which further ensures new and creative solutions.
Design Thinking as a
common platform
In order to really discover who your customers are and what they want at a deeper level, the implementation of design thinking is essential. Our tailor-made unique modules with high energy activities with proven brainstorming methodologies can help you think differently and creates awareness that creativity isn't something that can be put into boxes. These workshops help you understand creativity can be defined in the way that we usually do from thinking differently to problem solving, coming up with new ideas to do tasks, or just organizing and structuring things in a way that gives something a different perspective.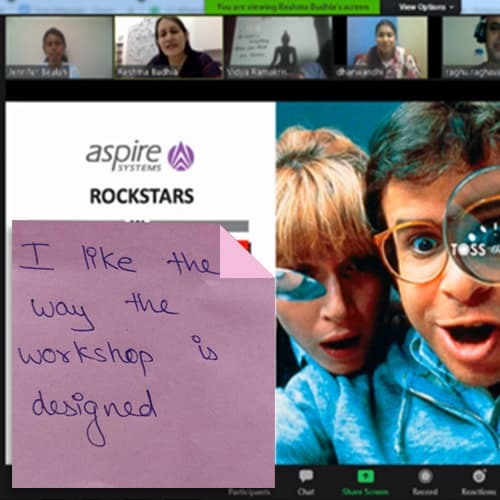 Digital Workshops are the need of the hour.
In all our digital workshops, we ask participants to bring their soul and nothing more. We create a safe space for participants to feel comfortable enough to share their ideas, without the fear of judgement. Because we believe when such an environment is created, there is an automatic encouragement of the flow of creative ideas and solutions. We comfort and allow participants to learn in their environment which includes asking participants to bring their kids to the workshop.
It's fun and interactive, sans judgement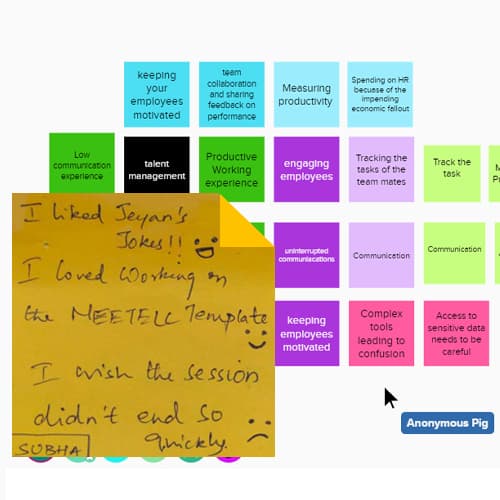 We start these workshops off with innovative ice-breaker sessions like make your Dalgona coffee, dress up as your favorite character and many more to get the creative juices flowing.
We introduce participants to virtual whiteboards like Mural and allow them to brainstorm. Later, we ask them to post their ideas and vote with a timer to pick the top concepts.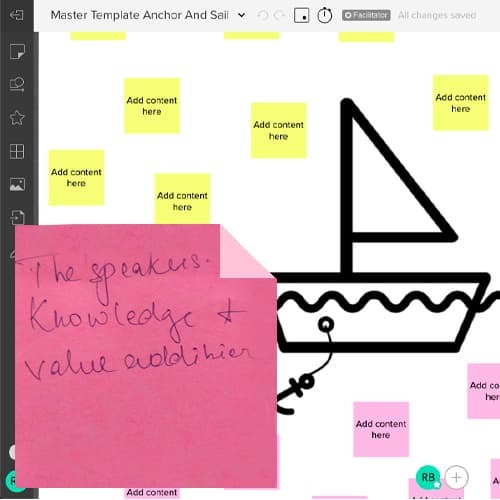 We use breakout room feature from Zoom to divide participants in group with dedicated facilitators. This approach helps them to understand and clarify doubts while brainstorming and allows them to acquire the concept quickly.
We provide creative activities like Love Letter and Break up Letter to help them understand their roles and Anchor & Sail activity to understand the pros and cons of the product/service, etc.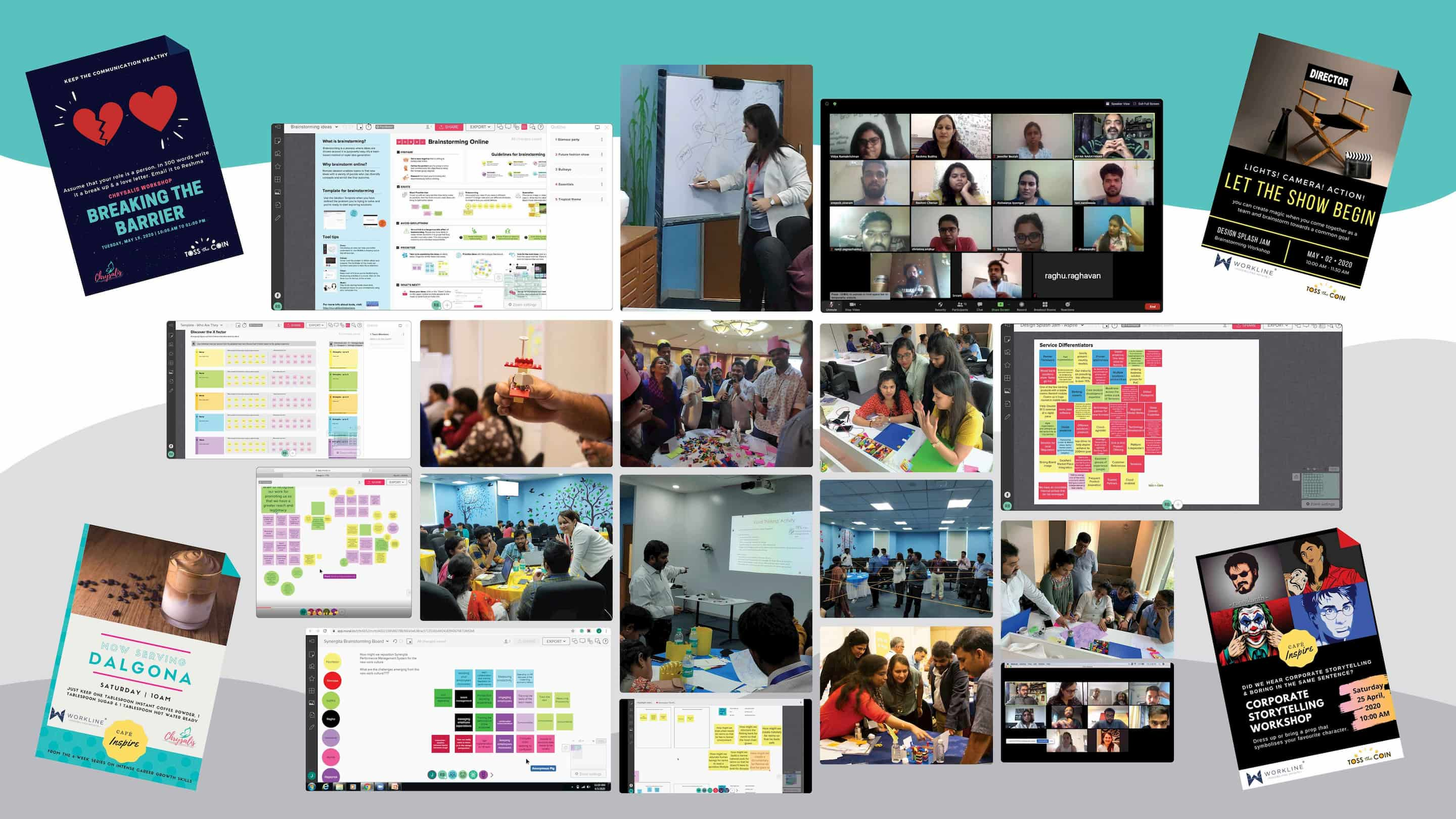 Virtual Post-its
With Mural we create whiteboards for different discussions and invite participants to the same whiteboard. Together we discuss ideas using post-its, run online voting and also ensure voting are effective by sharing a common timer.

Breakout Room
We absolutely love the breakout room feature offered by Zoom. When we are in a large group and we need to breakout into teams to discuss ideas separately, zoom allows us to create breakout rooms within the same video call. Each of those rooms can have their own private discussions, share screens and chat!

Screen Recording
We use Loom to record workshops and share the link with participants along with our take away kit. This helps participants to snap the idea/concept/prototype they created.

Focused Channels
Slack allows us to create channels for focused discussions and allows participants to ideate as a group during brainstorming sessions.

Everyone Has It
Google Drive comes in handy for file sharing while working on mood boards. This tool gives the sense of familiarity to participants while working on collaborative projects.

Constantly Evolving
With our 15+ years of experience, we deliver our knowledge in a fun, interactive and engaging way to our participants. This helps them to grasp the content without any difficulties.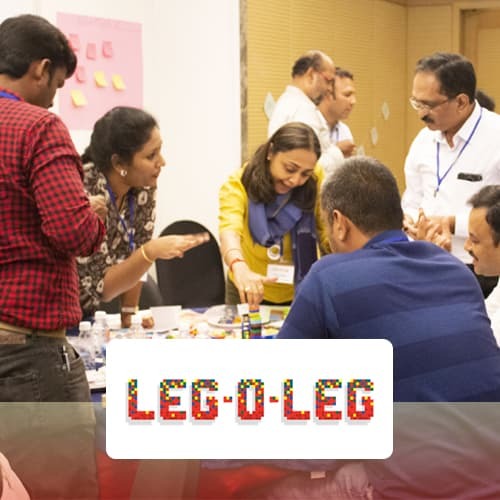 TOSS the COIN brings to you a super-intensive workshop to get you kick-started on design thinking. We will work with props like LEGO, ideation templates & interesting exercises to teach you design thinking.
In this workshop, you will get
Get introduced to design thinking
Hear real-world case studies on human-centered design solutions
Immerse in unique brainstorming techniques across the 5 stages of design thinking
Apply your learning to a real-world challenge
Interact with other individuals with similar challenges and learn from them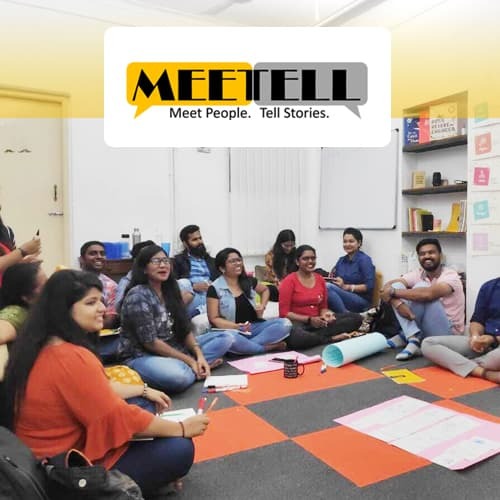 MeeTell is a corporate storytelling workshop that helps you creating powerful stories around your brand, your product or our service. In this workshops we share our tried and tested techniques to build a compelling stories with a message.
In this workshop, you will get
Develop storyteller mindset
Transform boring content into stories
Discovering the highlights of your brand that your consumer needs to hear about
Creating the blueprint
Narrative techniques that you can use to build your stories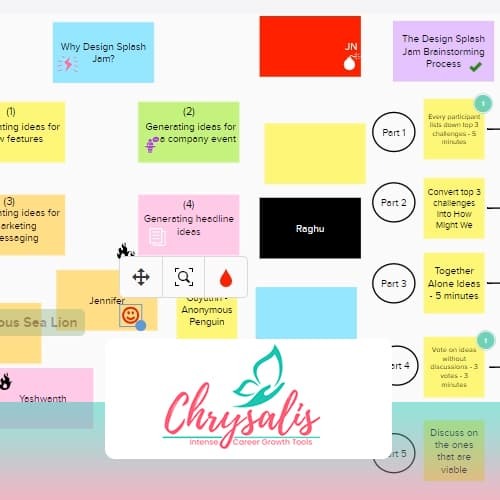 Chrysalis is series of an interactive, engaging & immersive workshops on tools meant for intense career growth. This workshop will be highly useful while brainstorming as a team ensuring every individual contributes with high energy.
Series of workshops covered in Chrysalis are,
Flexing the creative muscle
Art of articulation
SplashJam brainstorming
Digital image building
Presentation mastery
Creative business storytelling
Breaking the barrier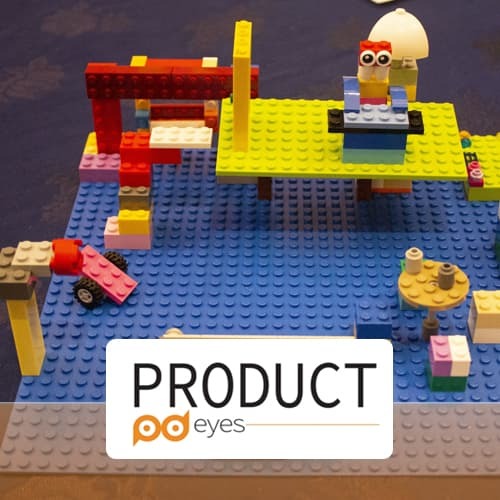 PRODUCTeyes is an high intense workshop for new product development (NPD) completely focusing on your product/service. In this workshop, we will brainstorm on your key product/service to understand the core value of your product/service.
In this workshop, you will get
Have a deep understanding of your user and the journey you need to offer them
Have multiple layers of challenges that you are trying to solve
Crazy, feasible, viable and doable features & capability lists
Impact analysis and roadmaps for prototype & test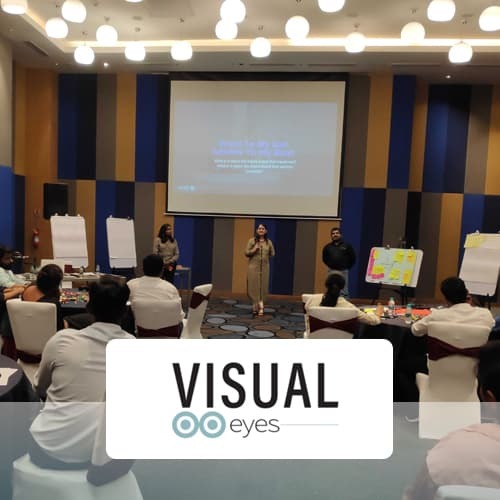 VISUALeyes is a visual branding workshop that helps participants to "think outside the box while staying inside" by using the power of visualization and art of storytelling. This workshop enables participants to understand, analyze, explore and define their corporate identity.
In this workshop, you will learn
How to build brand personality
Visual storytelling through the brand components
Brand positioning and proposition
Understanding the brand vision and mission
The fun box is an online workshop that is designed to address remote fatigue that teams have been undergoing, due to the lack of everyday interaction with each other. Recreate the rapport that would be built on the gupshup around the water cooler or the chai break. Bring back the feeling of synergy and bond with your team.
At the workshop you get to
Break the rut of remote routines
Eat, chat and hangout with the team
Get to know the team better, pull each other's leg, boast of your adventures
Interact with team members that have newly joined
Introduce or reacquaint the team with the brand culture
Have some good old-fashioned fun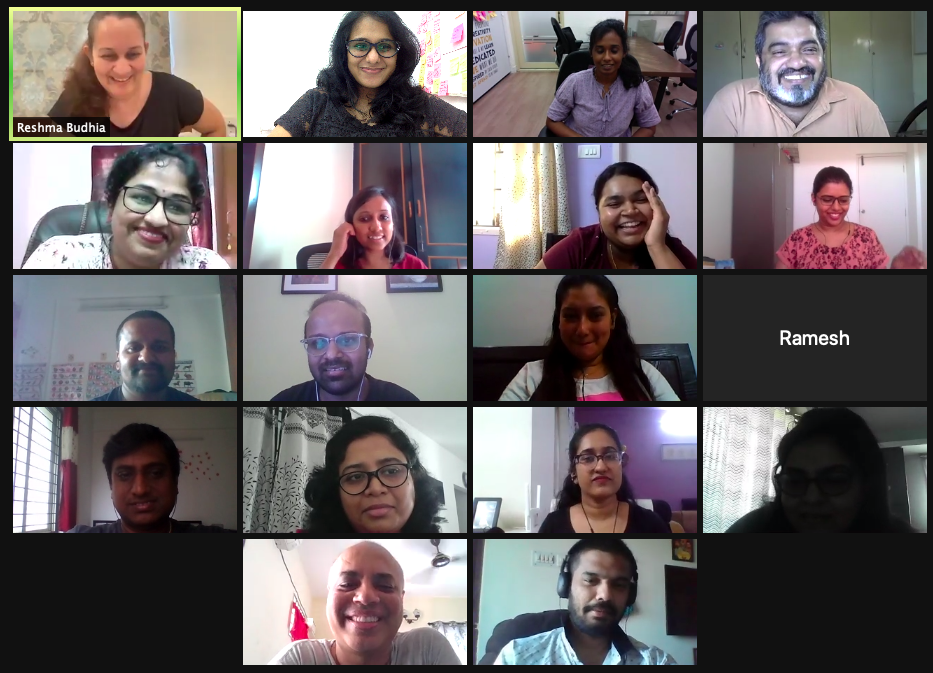 Looking for a tailor made workshop
based on your problem statement?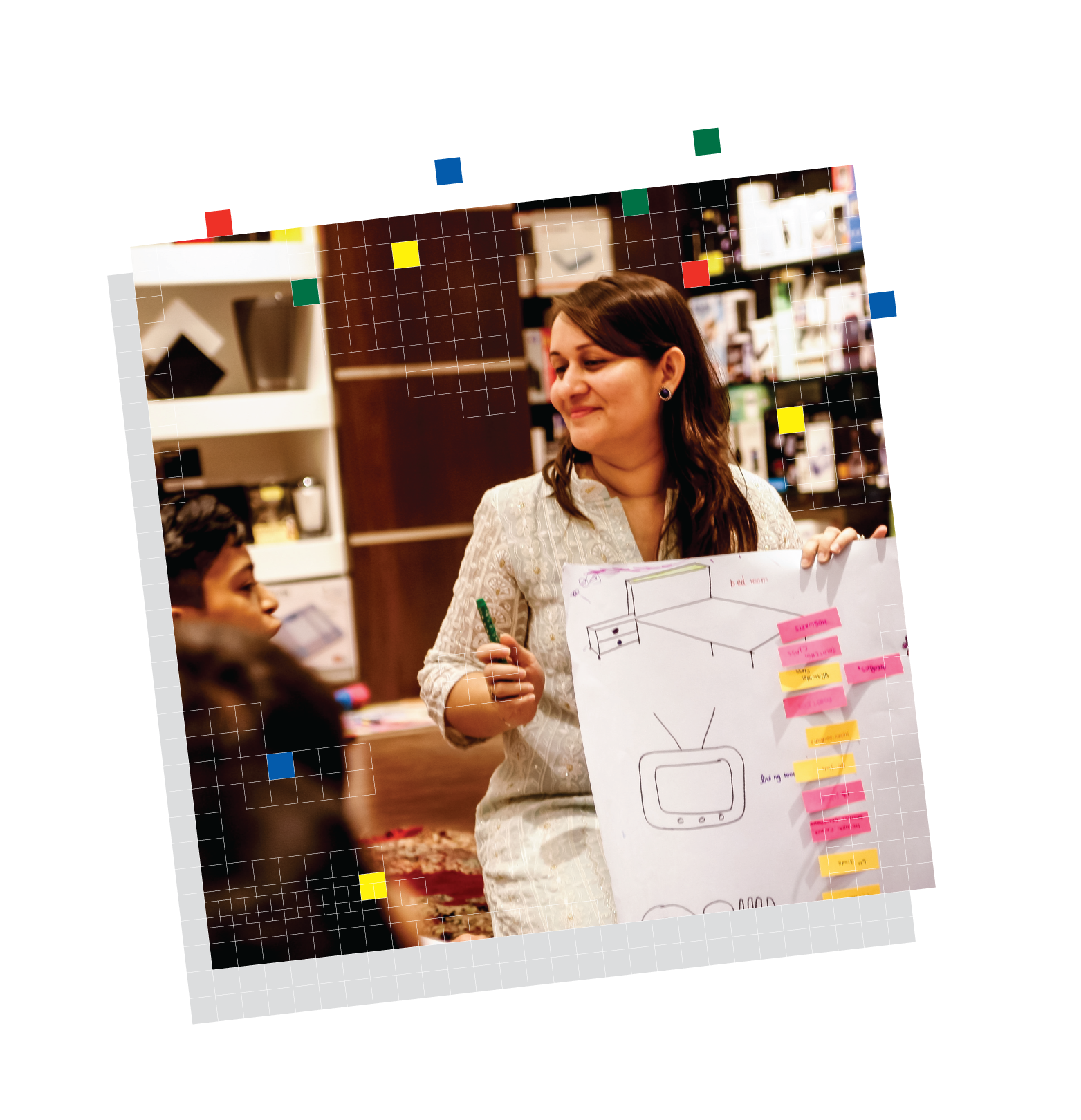 Reshma Budhia, Certified Design Thinking Specialist from Emeritus MIT Sloan School of Management and practitioner of Systematic Invention Method for problem solving. Awarded Exceptional Women of Excellence, 2018 by Women Economic Forum.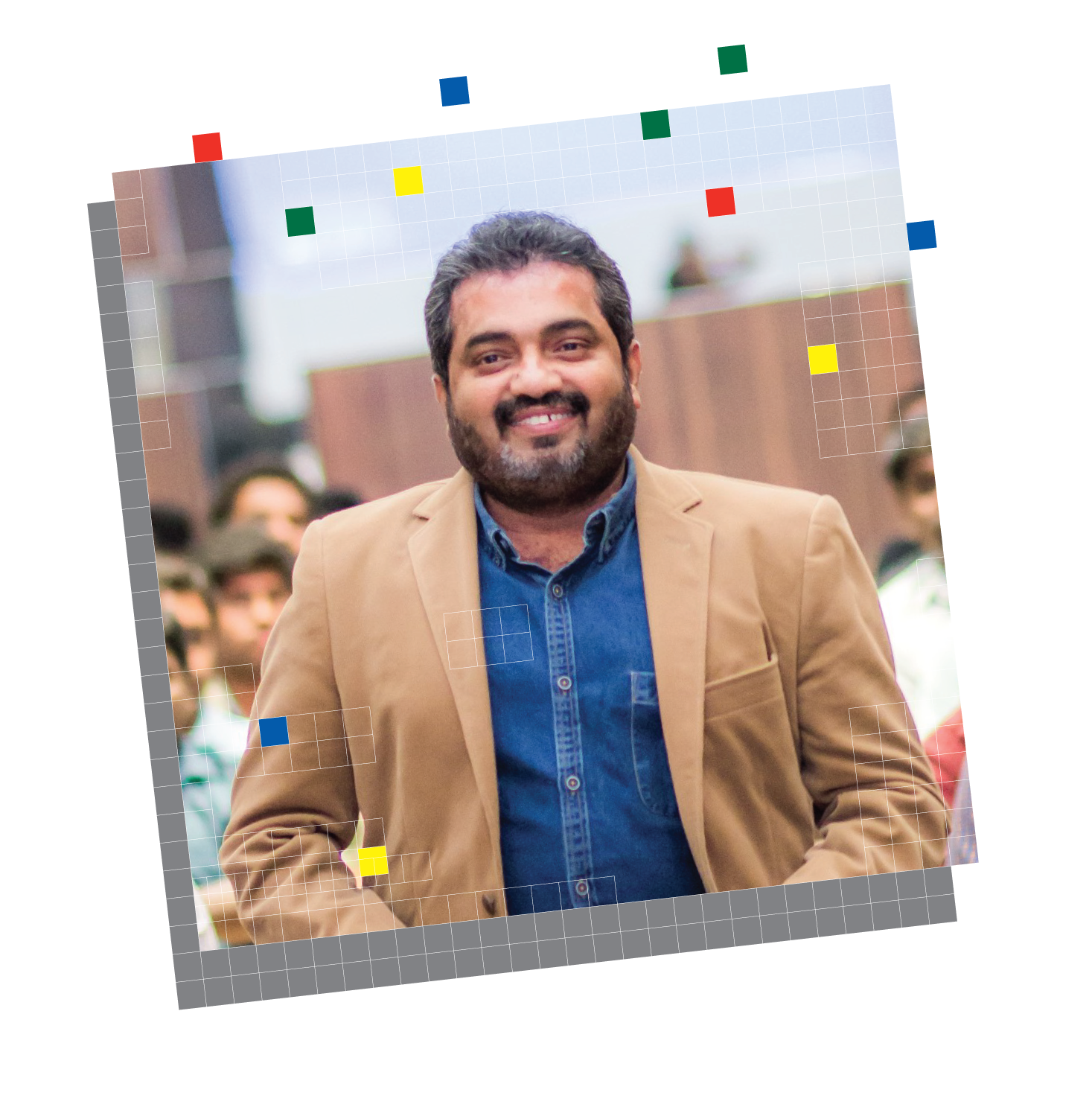 Jayan Narayanan, Alumnus of BITS Pilani, Distinguished Toastmasters (DTM), Motivation Speaker & Corporate Trainer. Has delivered over 1000 speeches and keynotes. He is on the panel of visiting faculty at Tata Institute of Social Science.